Release Date and May 2022 Devlog
---
Hello everyone!
Once again, I want to thank everyone for their patience. I hope some good news will make it up to you-
We have a release date!
Camp Palut will be released June 15th
New Demo
To celebrate a release date, I have also published a new demo. This demo is more or less what the beginning of Camp Palut will look like and includes a number of changes from the previous demo.
The third and final counselor has been added to the game. She was designed by one of the backers and isn't she cute?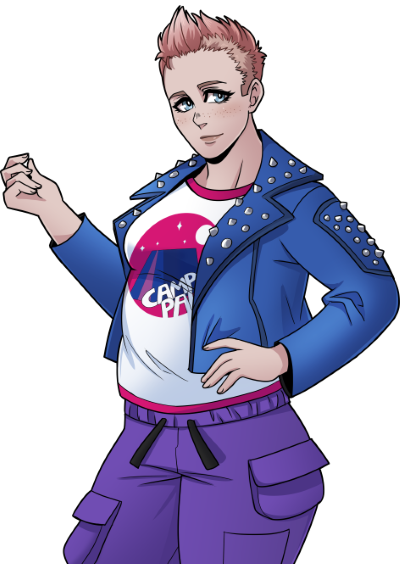 The main menu UI and accessibility features have all been added and should be available for use. This includes changing the text size and font, changing the textbox to be opaque or solid colored, and adding alternative text for sound effects.
The main menu interface had to be tweaked to allow it to be more accessible. Now the interface will change to OpenDyslexic font when selected, and will now work with self-voicing.
You can also now toggle affection on and off. This allows you to see where each love interest will be on the camp map and also give an indication when you gain affection with one of the love interests.
When beginning the game, the player will have the option to rename Jess to whatever they would like, up to ten characters. Unfortunately that's the longest a name can be and still fit comfortably on the namecard above the textbox, but I hope that's better than nothing!
Coding and Art
The routes for Amy, Nat and Cassie are complete and ready to be played. Bianca is the last step I am finishing up. She has already been written and programmed, I just need to go through it with an editor's pen and make sure it measures up to the other three.
All of the CGs except for one are complete, with the final CG is already in the works. The art is so beautiful and I can't wait for you all to see it!
Final Thoughts
I can't believe how close we are to finishing and how excited I am for everyone to play it. Thank you all so much for supporting Camp Palut and helping me to make this a reality.
Thanks for your continued support!
See you next month,
Nicole
Files
CampPalut-1.0-market.zip
399 MB
May 27, 2022
Get Camp Palut: A Queer Mystery