Hello everyone!
Apologies for the December update coming in January, I hope you can forgive me.
Let's take a look at the writing and coding chart to see our progress.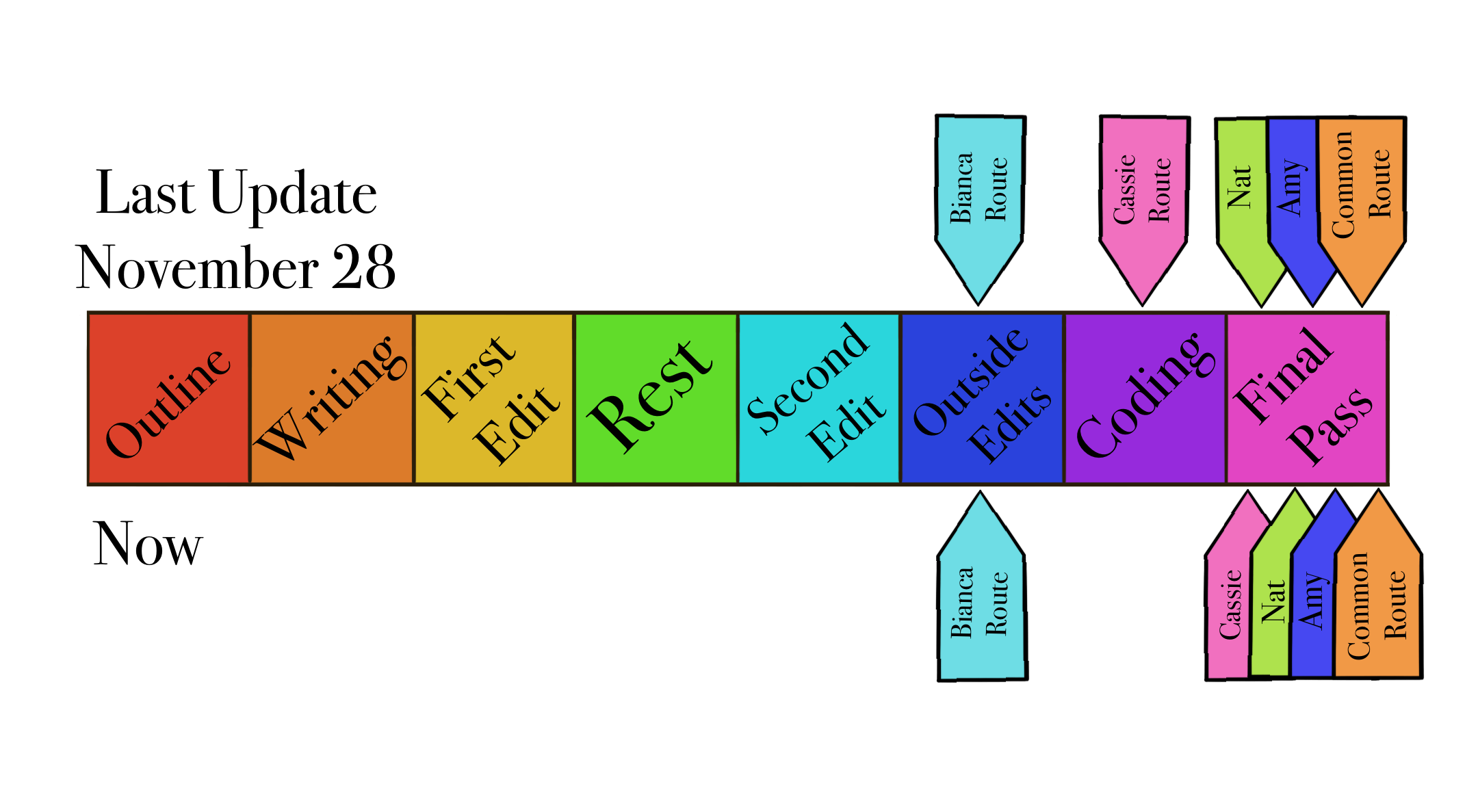 The main three have their route programmed and are awaiting final polishes. A lot of my time this month was spent working on the user interface, menus, and accessibility features. The engine I am using to build Camp Palut includes some limited accessibility features, but I wanted to make it easier to find and also more tailored to Camp Palut specifically.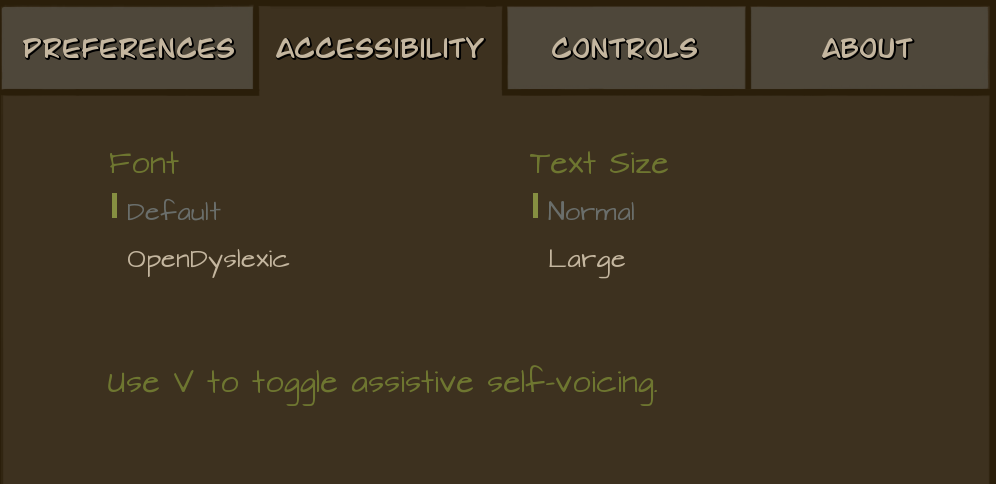 I have found a way to switch the font to OpenDyslexic, a font designed to be easier to read for people with dyslexia. This switches most of the fonts in all the menus to OpenDyslexic but there are a couple of image interfaces that I will need to edit before everything will switch over to the new font.
I have figured out a way to increase the size of the text for my textbox, where most of the dialogue and text is, but am still working on finding a way to increase the size of the text in menus and other interfaces.
Camp Palut also features assistive self-voicing. When you hit the V key, assistive self-voicing will be turned on. Any text your cursor hovers over will be read aloud by the program, allowing for low or no vision players to enjoy Camp Palut.
Accessibility is something that is very important to me, but I am unfortunately limited by my ability to code. As I learn more, I want to be constantly updating Camp Palut to provide additional resources.
I've been spending a lot of time on coding because I will be releasing an updated demo for Camp Palut by the end of January.
Here are a couple of changes that have already been implemented for the new demo-
New user interface for the menus
New interface for selecting dialogue choices
Adding accessibility features
Adding a gallery to view unlocked CGs
updated music and sound cues
New Test of Courage "monsters"
small rewrites and edits to scenes
There are still a few changes I am working on for the new demo, the most important being-
editing scenes to include two new counselors
adding the ability to change the main characters name to anything of your choosing
I will be working on these through January, and whatever I have implemented by then will be included in the new demo.
This new demo is coming in preparation for Steam Next Fest which takes place February 21-28. This is a great time for Camp Palut to reach new interested players ahead of its launch and for you to check out other fabulous indie demos.
Other updates not related to the demo, the CG's for Amy's route have been completed! That means that Amy's route is almost completely finished. The character artist has begun work on the CGs for Nat's route. This currently puts our finished art on time to be completed by March-April. I don't want to nail down an exact date until a few more pieces are completed.
In other exciting news- Camp Palut is getting a new trailer! It is currently in the works and I am so excited to see it when it has been completed. If you haven't wishlisted Camp Palut yet, maybe give that a try. It really does help in the grand scheme of things. You can do that here.
Thanks for your continued support!
See you next month,
Nicole
Get Camp Palut: A Queer Mystery