Hello everyone!
First, I wanted to apologize for missing an update for February. I was working so hard on the game I forgot to tell you about it!
The February edition of Steam Next Fest was a huge success, and we gained over 200 wishlists in that week-long period. Wishlists are incredibly important to the success of a game on Steam, so this was an exciting boost.
But now let's take a look at our progress on Camp Palut itself.
Art and Music
Background Art is complete
Music is complete
The final backer funded counselor is currently in the works, and I am so excited to show her to you when she's complete.
CGs for Nat and Amy's Routes are complete
One more CG for Cassie has been completed, meaning there's only two more to go
Bianca's Route has three CGs left
Coding
Nat and Amy's Routes are complete, now awaiting playtesting and quality assurance
Cassie and Bianca's Routes are programmed but need to be run through a few more times with my coding style guide before I pass them off to playtesters
Common Route is complete, just waiting for final counselor art before passing off to playtesters
The user interface is finally finished, including this new options screen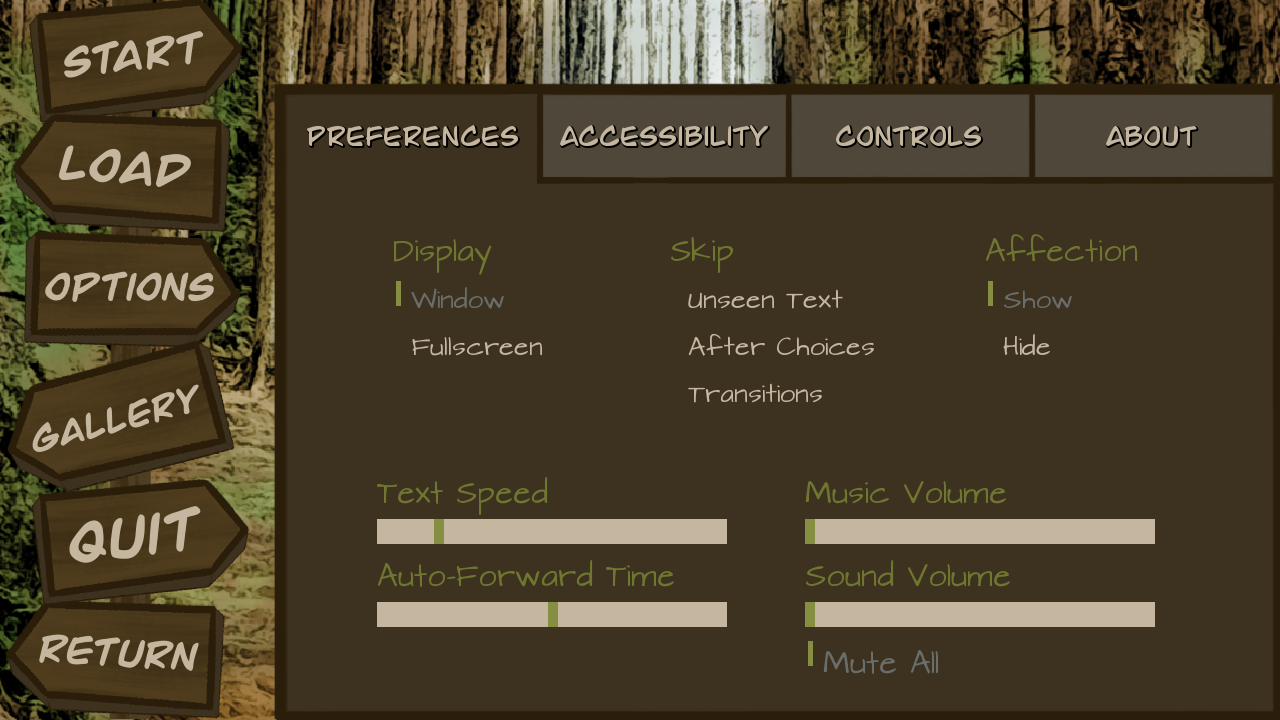 The biggest change is currently called "Affection" but I am searching for a better label for it. When this is set to "show" you will see a cute little image on the screen when you make a choice that gains you affection points with a love interest. It will also show the face of the love interests on the camp map screen here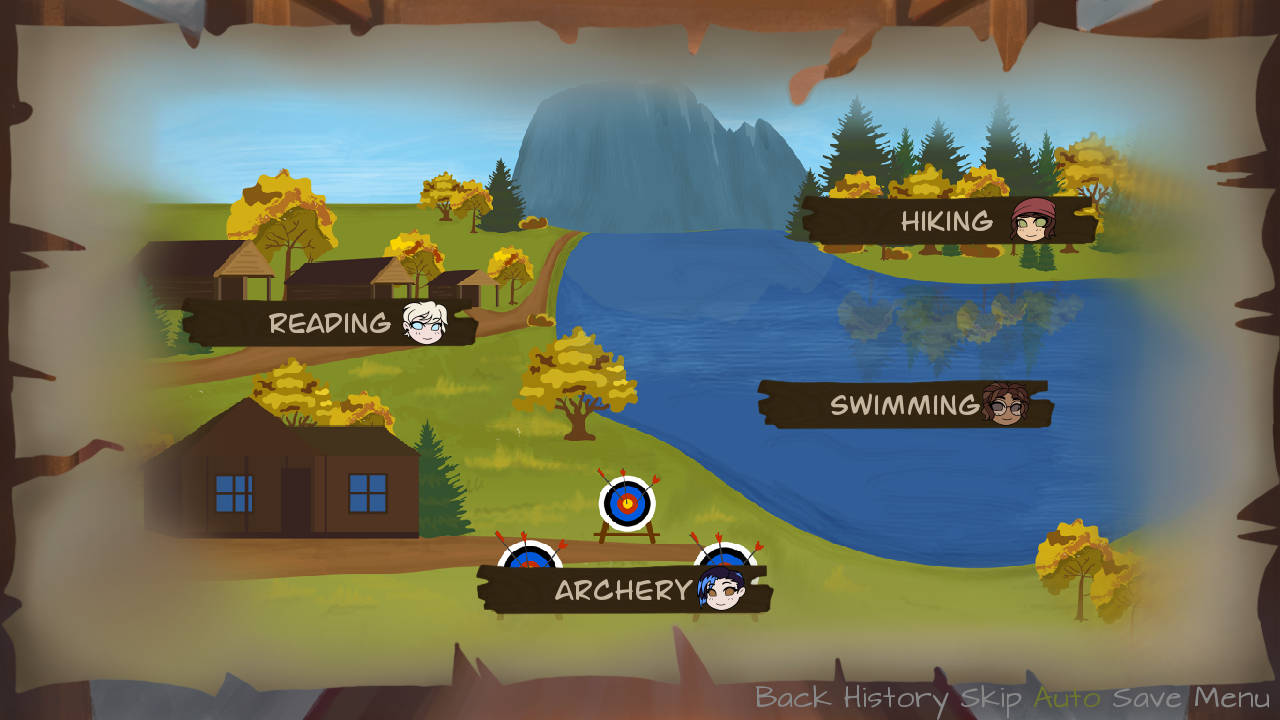 If this is set to "hide" then you will need to listen to the conversations to figure out where each love interest will be at each point in the game. You also won't immediately know if any dialogue option gained you affection points.

I'm having a hard time deciding what to call this on the options screen. If you have any ideas, please let me know!
Accessibility
I have spent a long time the past two months adding as many accessibility options that my limited coding knowledge can handle. I know that I could continue to add to this forever, but this will be the extent for Camp Palut.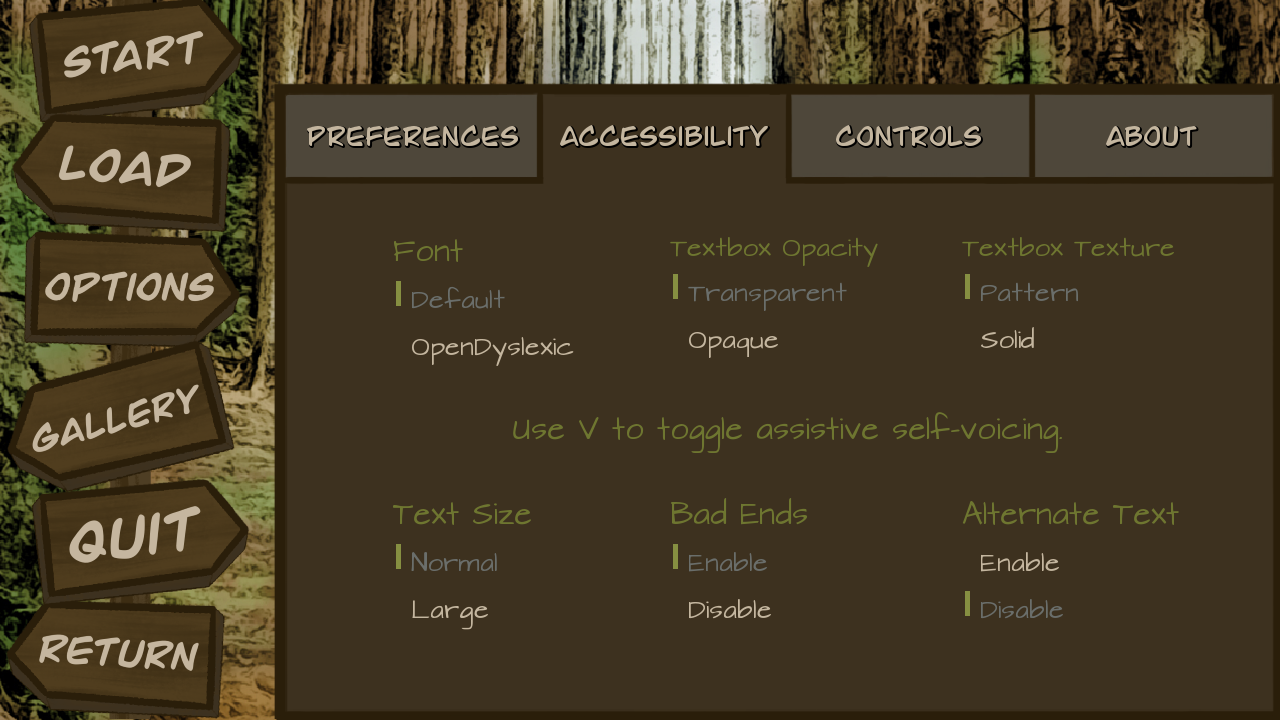 This gives you the option to use the OpenDyslexic font and also to make the font larger.

It also lets you change the look of the textbox to whatever is easiest for you to read.
Ren'Py, the engine I am using to create Camp Palut has a built-in assistive self-voicing. If you press V on your keyboard, whatever your mouse hovers over, the computer will read out loud. (Except for the Start, Load, Options, Gallery, Quit, Return on the left side, I'm working on fixing that)
You can also enable alternate text, which writes out any sound effects for you.
Last but not least, you can turn off bad ends entirely. You can still make choices and you will get different dialogue based on those choices, but when the time comes, you will still get the good ending.
Release Date
The biggest thing slowing the process down right now is the art. This is entirely my fault, I waited too long to pull the trigger on getting my artist started on the necessary CGs. We have five more CGs to go. These CGs can take anywhere from 1-2 weeks. Then I will need another week for quality assurance and another week to get approved by Steam's process. So we are looking at anywhere from 7-12 weeks before the game will be complete.
I wish I could narrow it down further, but I don't want to rush the art. As soon as I have a date, all of you will know immediately.
If you haven't wishlisted Camp Palut yet, maybe give that a try. It really does help in the grand scheme of things. You can do that here.
Thanks for your continued support!
See you next month,
Nicole
Get Camp Palut: A Queer Mystery